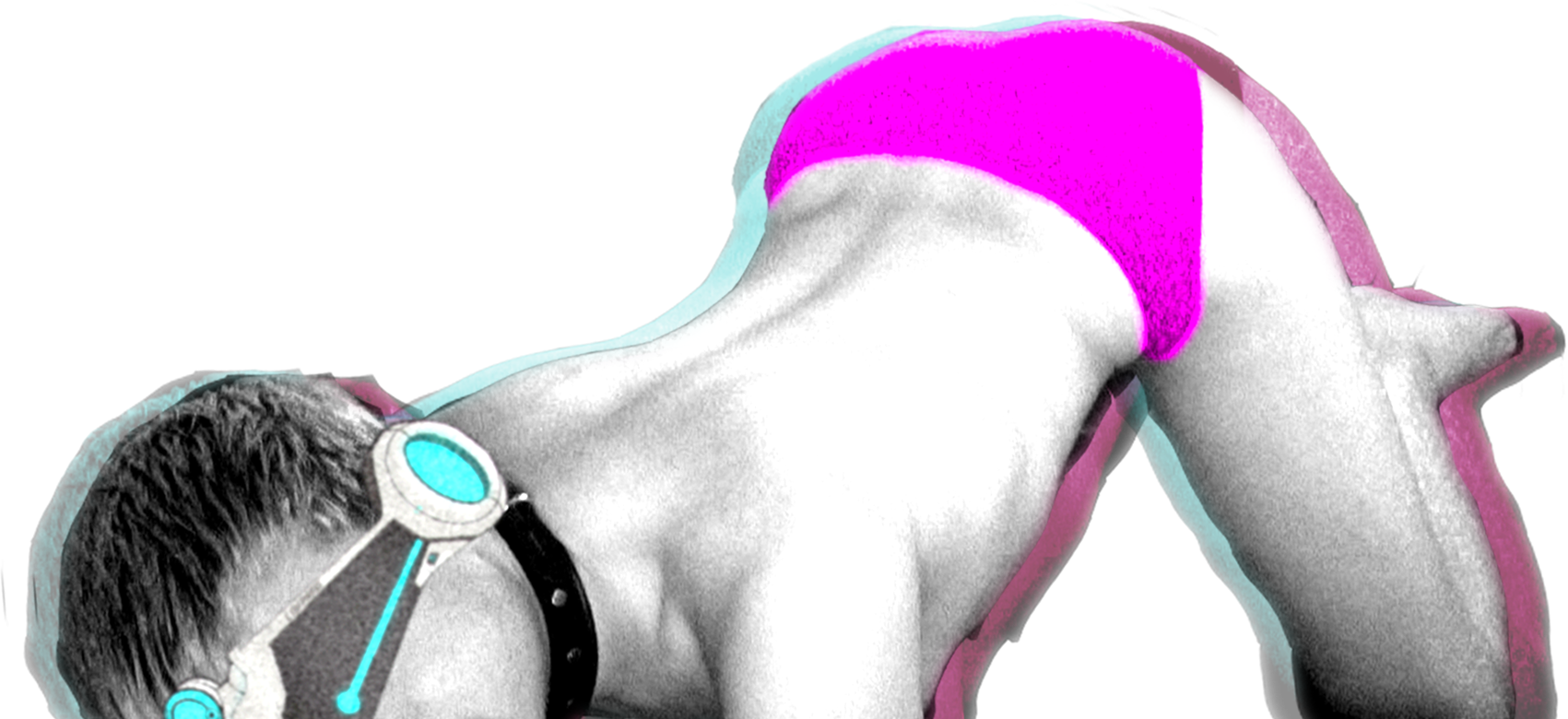 Undercurrent is a play party club for weird gays and disaster queers in New Orleans
We run regular events for thirsty thots ages 18-40*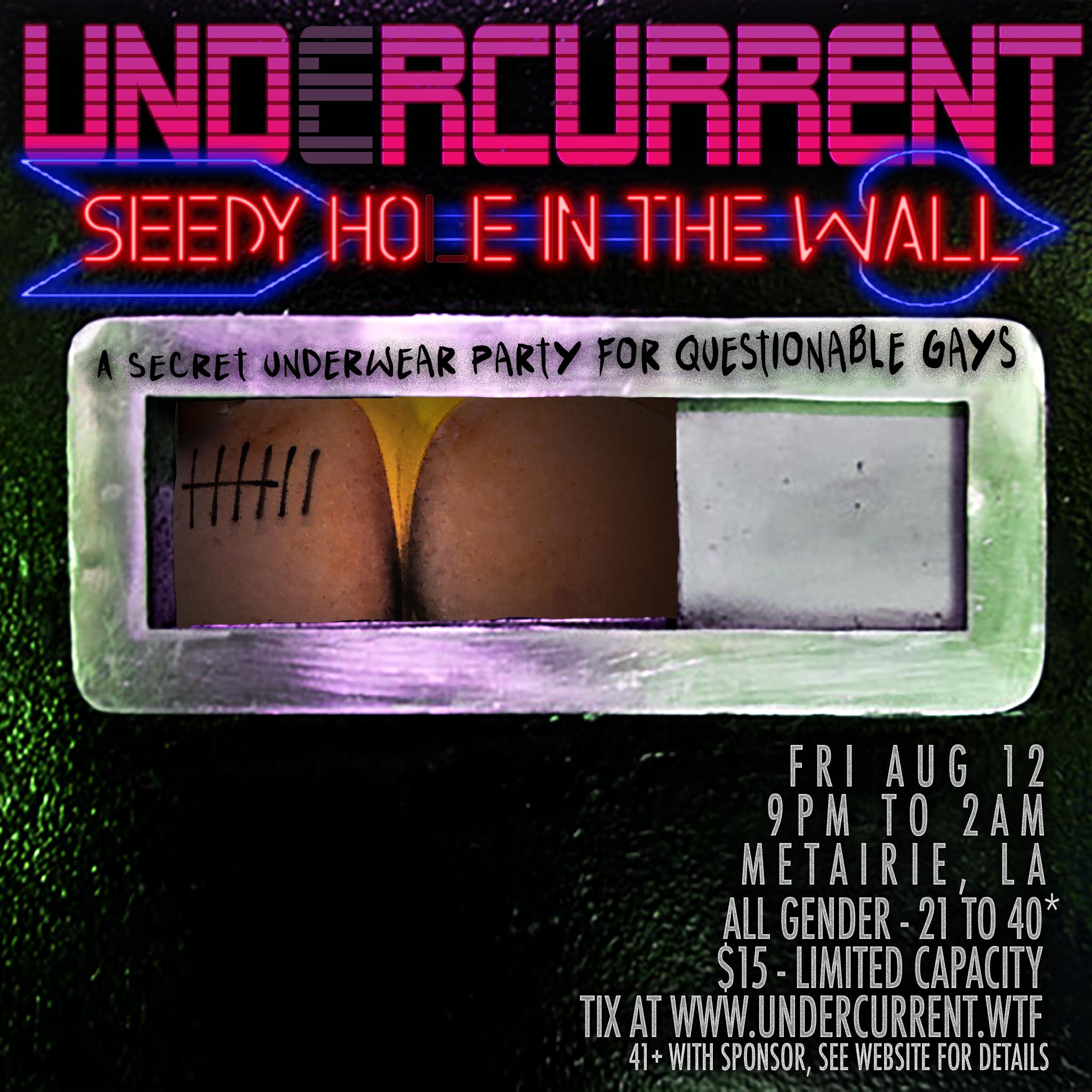 Next event August 12th!
SECRET VENUE! LIMITED TICKETS AVAILABLE!
Check out the EVENT PAGE for info and tickets!

(This party will be at a venue with a 21+ policy. We're working on securing a new venue where we can welcome our 18-20yo members!)
Contact us at gays@undercurrent.wtf to find out more about this bullshit
Send (the word) NUDES to (504) 370-9567 to get texted when new parties are announced
The fuck is this?
Every month or so we get a bunch of thirsty young horndogs into a combination lounge/BDSM dungeon space and we all take off our clothes and we hang out and be a bunch of gay idiots. Imagine a gay bathhouse but instead of showing porn on the TVs they're showing memes; we cannot actually afford TVs or baths but that's basically the energy we have going on.
Oh shit it's that kind of party?
Nobody has any idea if the State of Louisiana will legally allow us to answer "yes" to this question! So instead we're going to tell you all about our free condoms and complimentary lube and hope you understand what we're saying!
You are encouraged but not required to play with anyone or even actually take your pants off. Our vibe is very social and friendly, and we work hard to be welcoming to people who've never been to this kind of debauchery before. We strictly enforce consent.
Is this a kink/fetish party?
Ehhhh no? But yes? There's some kinky fuckers who show up with leather and whips and shit but you don't have to. If you're vanilla, you'll be fine. If you're on the wild side, you'll also get your fix. Somehow we all manage to coexist at this thing.
Although, yeah, bring your ropes and cuffs if you want to tie people to things, 'cause we've got some of that.
Is this a circuit party?
God no, we're fucking losers, we're not even close to that cool or professional.
Who can come?
Undercurrent is for you if you're queer, between age 18 and 40, and a complete horny disaster. All genders and spicy flavors of transness are welcome!
Our events are open to members of Dumb Twinks United Local 42069, a radical labor union of dumb twinks banding together to demand rights for bottoms. Membership is also open to dumb bears, dumb otters, or dumbasses of any body type. Smart gays can fuck off.
Why the fuck do I need to be a member?
Idk that's just what the lawyer told us we had to do. It's not as much of a hassle as it sounds like. You can become a member at the door, it's super no big deal, you just show us your ID and sign a wavier and shit and you're in.
If you like what we're doing, consider volunteering to help the club out! Membership has no obligations but you can absolutely do shit if you want to!
Hey I'm 41 and I'm cool, what the fuck?
Younger people can sponsor older people! Come by with a younger friend who vouches for you and we got you. The reason we do this is because we used to run play parties that got overwhelmed by people used to cruising etiquette from the 80s and 90s, and we want to give a new generation of queers a safe place to be sluts. If you're older and respectful of this then you're absolutely welcome to join!
Where and when?
We run monthly parties at various venues in New Orleans.
Check out the latest event page for the time and address. You can get on our contact list for new parties by:
Who runs this thing?
A bunch of weird queers, leather pups, furries, and strippers, some of whom went to art school and some of whom went to business school and aren't using those degrees for anything else. Please do not mistake whatever relative polish we have on our website and marketing for organization or competence.
Is there alcohol?
We do not serve alcohol at Undercurrent, but to make up for that, we do serve:
Guests under 21
A pleasant lack of whiskey dick
What do I do with my clothes?
Take 'em off, baby! We got a clothes rack up front and a desk to check valuables. You can wear as much or as little as you want, whatever you feel sexy in. Underwear is highly encouraged.
Why the vaporwave?
a s s t h e t i c